HELP YOUR CHILD BUILD AN ACADEMIC FOUNDATION WITH OUR
PRESCHOOL PROGRAM – 2'S – 3'S
SET YOUR CHILD UP FOR SUCCESS
At Home Away From Home in Pembroke Pines, we offer a preschool program that can help set your child up for success. We will teach them the basics and help them build a foundation that will allow them to thrive throughout their time in school. Our program provides a stimulating environment that allows them to learn and explore their interests. Learn more about our preschool program and contact us today!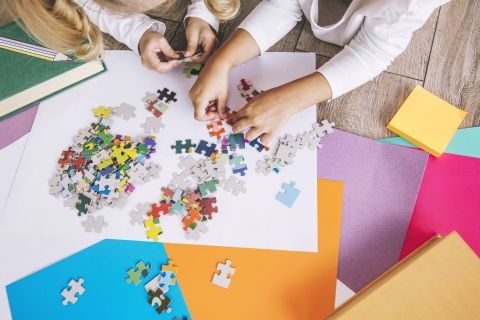 Benefits of our preschool program:
Your preschooler will have access to a bright classroom and a large playground that create a stimulating learning environment.
They will engage in age-appropriate activities that relate to our monthly themes.
Students will be given lessons in math, science, music, and more!
Your child will have opportunities to engage in shared and independent learning.
Children will be introduced to reading and writing.
Preschool 2's – 3's Program
Preschool is an extremely important time in your child's life and can help prepare them for their next academic step. Our preschool program is for children who are two to three years old. They are developing and learning a lot during this time and our preschool program can help ensure they are reaching important milestones.
At Home Away From Home in Pembroke Pines, we provide your preschooler with a great learning environment, stimulating activities, and a place where they can build an academic foundation.
What Your Child Will Learn
During their time in preschool, your child will learn and develop a lot as they begin to prepare for the next steps in their academic lives. Our teachers work hard to provide students with a stimulating environment that encourages learning and children to explore their curiosities. Our classrooms include areas for math, imaginary play, music, art, science, weekly cooking activities, and so much more. Your child will learn through a variety of different activities.
Math
We begin to teach your children the basics of math during their time at our preschool. From counting to learning how to add, your child will start to develop skills involving numbers, which will help them as they transition to kindergarten.
Reading and Writing
Another important basic skill for your child to learn in our preschool program language skills. We will teach your little one reading and writing skills, working on the alphabet and the sounds each letter makes. Your child will build a foundation for their language skills that they can carry with them throughout the next years of their lives.
Social Skills
On top of learning academic skills, your child will continue to build on the social skills they have already begun to develop. Social skills are important for young children to develop, especially as they get closer to spending more time in the classroom. Your child will be able to spend time around children and adults, learning how to interact and developing new social skills. We set up different activities that allow for shared learning experiences.
And More
Our preschool program will teach your child a ton of new skills and help build an academic foundation. They will learn about the world around them, enjoy activities that are educational and fun, and be stimulated every day. Allow your child to get a jumpstart in their education and enroll them in the preschool program at Home Away From Home today! We love helping kids learn and grow and we are excited to help your child thrive! Contact us today with any questions you may have about any of our child care programs. Set your child up for success by signing them up for our stimulating and educational preschool program!
Home Away From Home Articles